Enhancing or upgrading the overall feel in any area requires an improvement in the appearance of your home, which you can easily do with stone cladding. Modern architecture is improving rapidly and revolutionizing the way we used to decorate our walls in terms of the use of materials.
One of the most popular revolutions can be seen regarding the appearance of outer walls, also termed the art of wall cladding, which we will be going to discuss in this blog.
So if you are also looking to improve the appearance of your home with stone cladding, then read on to learn more.
What is stone cladding, and how does it work?
Stone cladding is a thin layer of refined stones popularly used for both interior and exterior applications. It is applied to give the effect of a natural stone wall. Stone cladding is widely famous for its durability, natural tone, and imperfection. There are two methods to install stone cladding on the walls, among which:
The first is called the wet method. In this method, a mortar mix of adhesive and cement is used to fix the wall cladding.
Another method is termed a dry method, in which stones are mechanically attached to the wall. This can be done by arranging, drilling, or bolting the stones to a metal frame system.
What are the areas where we can use stone cladding in our home?
Interior Walls
You can match your interior wall design with the other materials in your home. Whether you desire to create a modern appeal or a traditional look in your interior, stone wall cladding will fulfill all your requirements, providing several designs and color textures.
Exterior Walls
Stone cladding is in style, as it is a great choice to use on the exterior walls of your home. It provides a natural, stone-like feel to your outdoor areas. Cladding is also considered ideal for offering a sophisticated and welcoming entrance to your home.
Garden Walls
Stone cladding is also ideal to decorate the garden wall of your home, along with providing the optimum functional boundary. It is also used as a landscape piece that serves as a gorgeous backdrop for all the elements in the garden.

Benefits of Installing Stone Cladding in Your Home
To provide a natural and aesthetic look to your house, stone wall cladding will be a great option to opt for. But it is not only restricted to this, as you can seamlessly improve the appearance of your home with stone cladding with the several benefits it offers, which include:
Appearance
Natural stone cladding has imperfections in it, which embrace the area well, as you will not be able to find two pieces the same. It consists of a natural texture that helps you contrast it with other materials to provide aesthetic appeal to your home.
Ease of Installation
One of the major benefits of using stone wall cladding is that it is easy to install. All you need is a structurally sound and suitable wall for cladding. You need to hand-select the tiles and place them in the different required areas accordingly.
Robust in nature
Stone wall cladding is extremely durable and lasts a long time, which gives it an upper hand when used in exterior areas. They can easily withstand even harsh weather conditions and are resistant to chipping and breaking. It requires low maintenance and is one of those materials that improve over time.
Versatile
Stone wall claddings are versatile as they can be used in multiple places, which include near fireplaces, bathroom feature walls, outdoor kitchens, boundary walls, or the sides of the pool.
What are the different types of stone cladding materials?
Some of the most common types of stone wall cladding materials are:
Limestone is a sedimentary rock formed by materials such as fossil fragments and crystals. It has a low thermal conductivity, which makes it suitable for paving and wall cladding.
Pros of using limestone wall cladding
Durable:
Limestone is a durable stone and can last for centuries if maintained well.
Unique material:
Limestone has a unique texture naturally made over the centuries and is available in color ranges from white and blue to subtle brown. You can also combine it with dark colors because of its neutral look.
Resistant:
Limestone is resistant to fire and weather conditions, which makes it an ideal choice for use as wall cladding in outdoor areas.
Affordable:
It is a much more affordable material and also easy to clean as it doesn't require any specific care.
Cons of using limestone wall cladding
Staining:
Limestone is susceptible to staining from some liquids as it is a porous material.
Installation:
Limestone consumes quite a bit of time during installation, along with heavy manpower.
Sealing:
It needs to be sealed for protection.
Granite is an igneous rock that is hard in nature and forms in different parts of the earth. It is mostly composed of alkali feldspar, quartz, and plagioclase.
Pros of using granite wall cladding
Attractive:
Granite is an attractive natural stone that is available in a wide range of colors and patterns.
Resistant:
Granite is resistant to water, stains, high temperatures, abrasion, and bacteria, which makes it a perfect choice for use in high-moisture areas.
Maintenance:
Granite has a highly polished surface, which makes it easy to maintain. The shine of a granite stone can last a long time with simple mopping and sweeping.
Cons of using granite wall cladding
Cost:
Granite is a quite expensive material, and its installation may require some experts, which will combine to cost more and also consume more time.
Repair:
Repairing a broken or cracked granite slab will cost quite a bit more and take more time.
Sandstone is a rock formed by deposits in rivers, lakes, and oceans that contain minerals formed by sand. It is mainly composed of feldspar and quartz.
Pros of using sandstone wall cladding
Adds Value:
Sandstone is a timeless material that keeps up with current trends and adds value to the property.
Flexible:
Sandstone is a flexible material as it can easily withstand harsh weather conditions.
Durable:
It is also considered one of the most durable cladding materials, requiring little to no maintenance.
Cons of using sandstone wall cladding
Sealant:
If installed in a moist area, then sandstone wall cladding needs to be sealed every three to six months.
Absorbs water:
If heavy water floods over the stone, it can absorb it. So it is recommended to clean the water soon to avoid any mold and bacteria.
Slate is a homogeneous, fine-grained, foliated metamorphic rock that needs to be split or cleaved into thin slabs. These irregular slabs are great for use on roofs and wall cladding.
Pros of using slate wall cladding
Durable:
Slate is an incredibly durable material, making it a great choice for wall cladding. It can last for decades if maintained well.
Resistant:
It is a water and fire-resistant material, making it an ideal choice for use in both indoor and outdoor spaces.
Unique Look:
Slate is a beautiful natural material, with no two pieces being the same, giving walls a unique and beautiful look.
Add Value:
Slate is considered an upscale material, and using it as wall cladding will increase the value of the place.
Cons of using slate wall cladding
Installation:
It is hard to cut slate without using any special tools and needs experts to be installed anywhere.
Expansive:
You might find slate to be quite an expensive material while making the purchase and having it installed, but this will benefit you in the long run
Inconsistent:
Slat is a unique natural material, and it may be difficult to find any fine replacement during the repair of this stone.
What Are Some Stone Cladding Patterns and Styles?
There are a lot of patterns and styles you can use to improve the appearance of your home with stone cladding, some of which are:
Rustic Touch:
You can add a rustic touch to the walls of your entrance and enhance that place with a touch of attractive stones. You can also use stone wall cladding to divide up the space by using it on a section of the wall.
Ledgestone Beauty:
You can use ledge stone wall cladding to differentiate and create a unique design on the walls of your bathroom, living room, and bedroom areas. It will provide your room with a busy feel and is now in style
Black Charmer
A black stone wall cladding is a great way to decorate your wall, as it goes with every color and texture of that place and provides a rich and classic look to your room. They are not too prominent but offer the right amount of texture to the place.
3D Effect
Getting a 3D effect at your home with the help of natural stone wall cladding might sound crazy, but you can now do it with just the right choice of stone. It attracts every eye and beautifies the space naturally.
White Peace
If you want to break some monotony, then the white and serene wall is all you need. This will provide a distinctive space in your area without doing much with it. It provides a sense of calmness all over the place.
How to maintain stone wall cladding for years?
Vacuum
Accumulated dust is the major problem on walls, and to remove it, you can use a broom, duster, or vacuum weekly. Using a vacuum cleaner will be more effective, as it will help you clean thoroughly without using much energy.
Water
Water is the easiest and most convenient way to clean your walls. You can clean your walls with water once a week, but make sure to let the exterior walls air dry and soak the interior walls in water using a cloth.
Washing Liquid
You can use a mixture of water, salt, and washing liquid to clean the wall cladding in your space. You can use this cleaning method once a month or every second week. This step will be taken after the dusting.
All you need to do is make a thick paste using these ingredients, apply it to the wall using a sponge, leave it for 15 minutes, and wash it with water.


FAQs:
Q. Is stone cladding cheap?
Ans. No, stone cladding is not cheap, but it is considered far cheaper than traditional stonework.
Q. Does stone cladding need a foundation?
Ans. Yes, you need a strong foundation for the stone cladding to support the wall. It is one of the major elements of installation, especially when using stone materials.
Q. Is stone cheaper than brick?
Ans. No, both stone and brick are considered expansive materials to be used on the interior and exterior of a home.
Q. Is stone cladding heavy?
Ans. Yes, stone cladding is quite heavy and needs a suitable substrate to support its foundation.
Q. Why is stone cladding expensive?
Ans. Natural cladding is relatively more expensive than other wall claddings because it comes from natural resources that are specific to some geographical areas of the world.
Conclusion
In conclusion, stone cladding is an excellent way to improve the appearance of your home, both indoors and outdoors. With its durability, low maintenance, and aesthetic appeal, it can transform your living space into a stylish and elegant haven.
Whether you opt for natural stone or artificial stone veneers, stone cladding is a cost-effective way to give your home an upscale look. Moreover, the installation process is relatively easy and can be completed within a reasonable timeframe.
With so many benefits to offer, it's no wonder that stone cladding has become a popular choice among homeowners and designers alike. So, if you're looking for a simple yet effective way to upgrade your home's appearance, consider stone cladding as your next project.
Looking for some great living room Italian marble options for your home? Keep your worries aside as we have listed the best Italian marble for living room, including Statuario and Bianco Marfil, to use.
Italian marble has gained popularity among homeowners due to its unique designs, durability, and luxurious look. The marble is long-lasting whether you use it for flooring, wall cladding, or countertops. It offers a touch of luxury to your home.
It is one of the best natural stones available and is exclusively famous for its quality. Let's look at some of the best living room Italian marble options to use in your home, which include:
Statuario
Bianco Marfil
Venatino
Botticino
Carrara
Oro Calacatta
Let's discuss these living room Italian marble types in brief:
1. Statuario
Statuario Italian Marble consists of a white background with medium grey cut veins. It consists of an incredibly compact structure with a transparent sheen. This marble comes in the form of large slabs, which are ideal to use as wall panels and floors in the living room area.
You can use this marble to create a spacious as well as a peaceful and serene look in your living area.
2. Bianco Marfil
Bianco Marfil is a smooth-textured stone and is known for its beautiful appearance. This stone can be used in both interior and exterior spaces. It is one of the most durable marble stones and provides a glassy look after polishing.
It is highly resistant to erosion and fire and can last for hundreds of years if maintained well. It falls under the category of Beige Italian Marble Range," having high international quality.
3. Venatino
Venatino is a classic white Italian marble with a grey texture and tone that gets shinier over time. This marble has a soft look with a simple color palette, which makes it ideal to use in a living room area.

It is a valuable and preferable marble choice for most homeowners, extracted from the Carrara area. It is a characteristic and precious material with small pyrite crystals
4. Botticino
Botticino marble has been in use for a long time; you can also see its use in some historical Italian monuments. This marble stone can be easily cut into any desired shape and size, depending on the specific project needs.
It is one of the most prestigious and opulent marble stones available to use to enhance the living area of any home. This marble can be used on both walls and floors.
5. Carrara
Carrara marble stone is a popular choice because of its intrinsic characteristics, which allow the creation of great works of art. It consists of an appealing white background and gentle veins, which makes it a popular choice among various famous designers and homeowners.

It provides a traditional and contemporary feel to your living room, and its texture remains the same for years.
6. Oro Calacatta
Oro Calacatta is an elegant white Italian marble with some bold, thick, and unconstructed golden beige veining. It is a rare and expensive stone that can be found in some regions only. They provide a great, elegant look and can be installed on both floors and walls.

These tiles are submissive in nature and can be easily included with other materials. These tiles are also resistant to heat and stains.
Reasons To Choose Italian Marble For Living Room
Italian marble is considered an investment, and it has various reasons for this, which include:
Durable
Marble is a natural stone that occurs in the earth, which makes it unquestionably strong and durable in nature. It lasts for many years, which makes it the most preferable choice for architects, homeowners, and designers.
Rare
Marble is a natural stone, and its formation takes quite a long time. Some colors of marble stones, such as pink, blue, red, and green, are rare to find and can be found in some specific places only.
Timeless
Marble is a timeless material, which means it never goes out of style. People with opulent tastes prefer marble for its classic texture.
Exclusive
Marble comes in unique color, texture, and design out of nature, which makes it an exclusive stone as you can't find those designs anywhere in any other stone.
FAQs | Living Room Italian Marble Options
Q. What is Italian marble, and why is it popular for living rooms?
Ans. Italian marble refers to natural marble that is quarried and processed in Italy. It is known for its high quality, unique patterns, and luxurious appearance, making it a popular choice for living room flooring, walls.
Q. What are the different types of Italian marble used in living rooms?
Ans. Italian marble comes in various types, such as Carrara, Calacatta, Statuario, Botticino, and Venatino, among others that are famous for use in living rooms.
Q. What are the benefits of using Italian marble in living rooms?
Ans. Italian marble offers several benefits for living room spaces, including its durability, longevity, and resistance to heat and moisture. It also adds a touch of elegance, sophistication, and natural beauty to living room interiors, enhancing the overall aesthetic appeal of the space.

Q. How to care for Italian marble in living rooms?
Ans. To maintain the beauty and longevity of Italian marble in living rooms, it is important to clean up spills promptly, avoid using acidic or abrasive cleaners, and use mats or rugs to protect the marble from scratches and wear. Regular sealing and polishing can also help maintain the marble's luster and appearance.
Q. How do I choose the right Italian marble for my living room?
Ans. When selecting Italian marble for your living room, consider factors such as the color, veining pattern, finish, and overall design theme of your space. It's recommended to view samples in person, consult with a professional, and choose a reputable supplier to ensure you're getting genuine Italian marble of the highest quality.
Q. Can Italian marble be used in other areas of the home besides the living room?
Ans. Yes, Italian marble can be used in various areas of the home, including bathrooms, kitchens, foyers, and other interior spaces. It's versatility and timeless appeal make it a popular choice for many different applications.
Q. Is Italian marble expensive?
Italian marble is generally considered a luxury material and can be more expensive compared to other types of natural stones or engineered materials. However, the cost can vary depending on the type, quality, and availability of the marble.
Conclusion
In conclusion, the best Italian marble for your living room ultimately depends on your unique style, preferences, and budget. With careful consideration and attention to detail, you can transform your living room into a stunning showcase with the beauty and elegance of Italian marble.
Comment below: Which Italian marble will you choose for your living room?
Looking for the best stone tiles to enhance the walls of your home or office? In this blog post, we explore various options to consider, including marble, limestone ,Porcelain and more.
Each stone has its unique characteristics and advantages that make it ideal for different applications. We'll provide you with all the information you need to make an informed decision on the best stone tiles for your walls.
Discover the perfect stone tiles to elevate your space with this comprehensive guide.
Things You Should Remember Before Selecting A Stone Tile
It is recommended to select a tile according to the space you are using it for and its properties, along with some factors that include:
1. Current Wall Trend
Look for the current wall trends in the market. Most people prefer to go with trends and be a part of them. So browse the internet about the current trend and go for the option you like most. It is the easiest way to choose one for your space.
6 Best Living Room Wall Mural Ideas to Refresh Your Indoor Space
2. Select the Size
Size plays a vital role in the selection of wall tiles. First, you need to look for the space area where you are going to use the tiles. It is also said that the large tiles make a room look bigger. So if you have a smaller room, then you can use large-sized tiles to make it look spacious, and vice versa.
3. Choose The Finish
Along with design and size, the finish also plays a vital role while choosing the tile for your wall. Glossy tiles are considered great for walls, while tiles with a stone finish are a good choice for exteriors.
4. The Right Color
The color of your wall tile will be your personal choice. You can either choose subtle colors like white to provide a peaceful look or a black and dark color wall tile to provide a bold look to your space. Or you can match the color of your wall tiles with the other things at your place.
5. Water Absorption
Water absorption is a major issue that you must take care of before choosing one tile for your wall. as the water absorption rate is linked to the durability of the tile. Majorly if you are looking for wall tiles to use in moist areas such as a bathroom or shower areas.
Type Of Wall Tiles Available In The Market
There are a number of wall tiles you can find in the market, which include:
VITRIFIED TILES
Vitrified tile is a type of ceramic tile made by pressing a mixture of silica, clay, feldspar, and quartz. Vitrified tiles are non-porous and hard, making them the perfect choice for use in both indoor and outdoor areas.
Uses of Vitrified Tiles
Commercial Space
Residential Space
Garden
Living room
Bedroom
Bathroom
Kitchen
Terrace space
Advantages of Vitrified Tiles
Hard: Vitrified tile is hard and a homogeneous product, and it is considered very strong to use.
Resistant: Vitrified tiles are resistant to stains and scratches.
Installation: Vitrified tiles are easy to install and lay and can be maintained well without doing much.
Uses: They can be used for both indoor and outdoor areas and come in a variety of designs, colors, and textures
Disadvantages of Vitrified Tiles
Installation: A professional expert is required to install the vitrified tiles at any place, which might increase the cost of installation but it is a one-time investment.
Repair: It is quite difficult to repair any broken piece.
PORCELAIN TILES
Porcelain tiles are a type of ceramic tile made from fine clay and baked at high temperatures, which makes them a tough solution. They are an ideal choice to use in any wall area.
Uses of Porcelain Tiles
Living Room
Kitchen
Bedroom
Hallway
Advantages of Porcelain Tiles
Durability: Porcelain tiles are one of the most durable tiles, and if maintained well, they can last for more than 50 years.
Resistant: Porcelain tiles are highly resistant to water, which makes them great for use in moist areas such as bathrooms and kitchens.
Maintenance: Porcelain tiles look great, they're tough, and they are simple to maintain.
Design Options: Porcelain tiles come with a number of design and color options to choose from.
Disadvantages of Porcelain Tiles
Heavy: Porcelain tiles are quite heavy to handle and need professionals to work on them.
Installation: Porcelain tiles are difficult to install and consume more time while installing.
MOSAIC TILES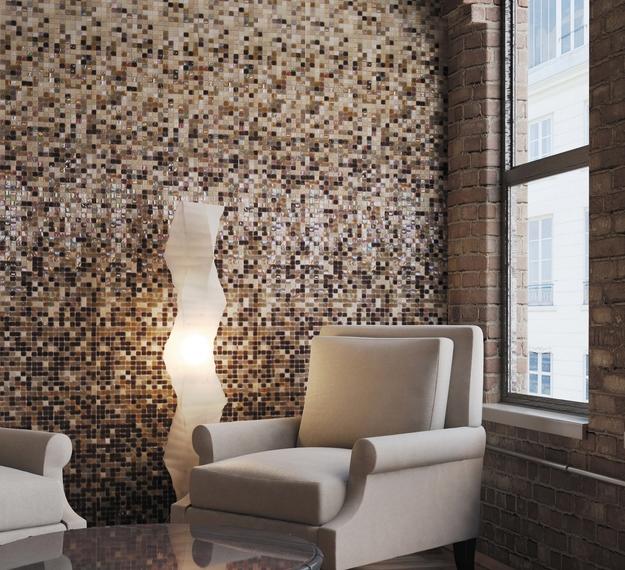 Mosaic is one of the oldest wall decorating arts that uses small pieces of tile to create a unique design. Since ancient times, mosaic tile has been a preferred choice to decorate walls.
Uses of Mosaic Tiles
Kitchen
Living Room
Shower area
Bathroom
Advantages of Mosaic Tiles
Eco-Friendly: Some of the mosaic tiles, such as marble, jade, and shell, are made from natural materials without adding harmful minerals.
Durable: Mosaic tiles are durable by nature and can easily withstand any harsh weather conditions too.
Add Style: Mosaic tiles are a great way to add style to your walls; you can create any design using them.
Disadvantages of Mosaic Tiles
Fragile: Mosaic tiles are fragile and, hence, can be broken easily if placed on floors.
Installation: Mosaic tiles require expert installation because of their delicacy.
MARBLE TILES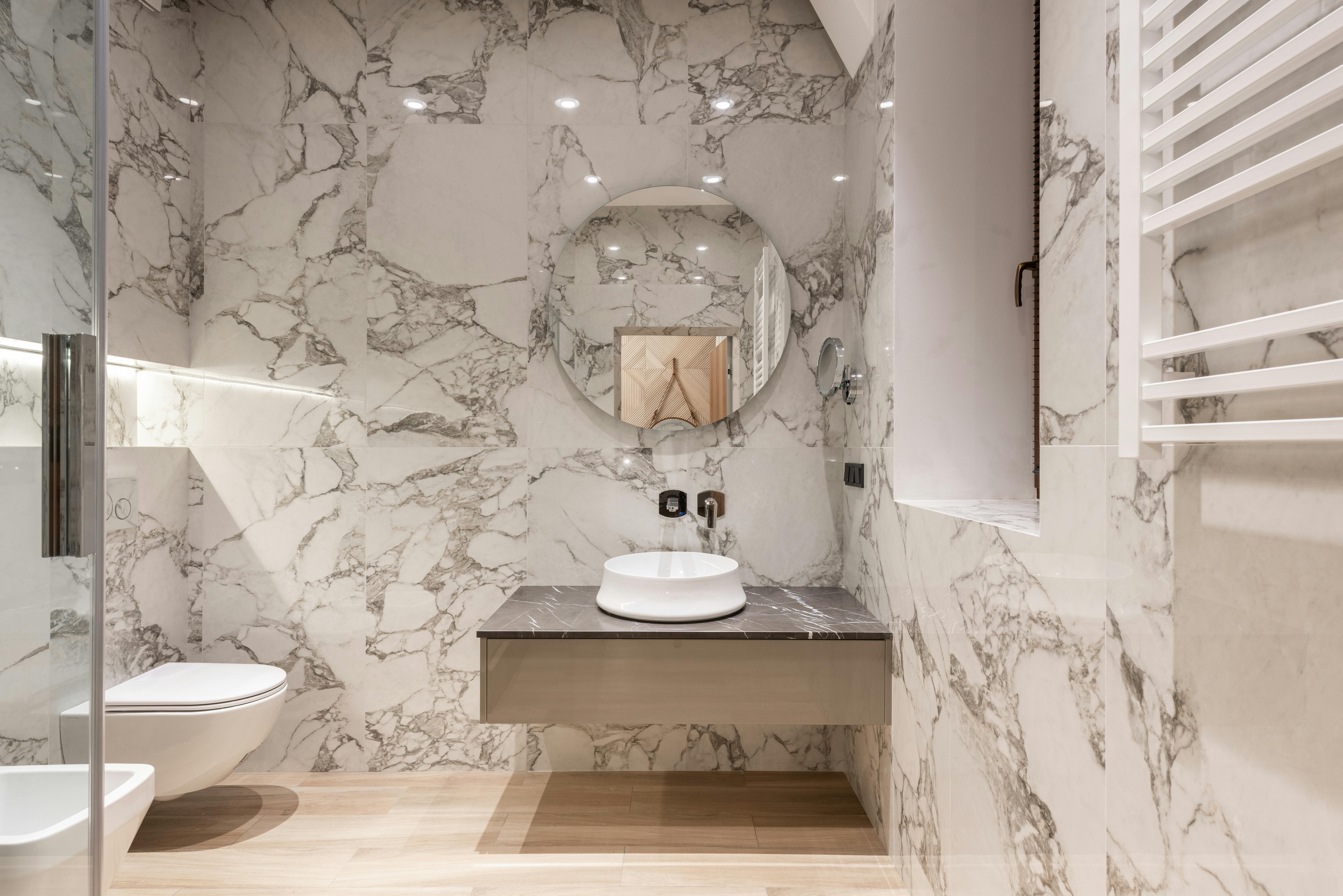 Marble is a metamorphic rock and a hard stone that has been in use for a long time in both residential and commercial spaces.
Uses of Marble Tiles
Living Room
Shower Walls
Kitchen Backsplashes
Bedroom
Bathroom
Advantages of Marble Tiles
Appearance: Marble is a natural stone that has a unique appearance. You will not find the two marble pieces the same.
Range: Marble comes in a wide range of colors and shades, including solid and multi-colored patterns.
Glassy Effect: Marble has a glassy effect. When it comes into contact with light.
Disadvantages of Marble Tiles
Scratching: Marble tiles can be easily damaged if not maintained properly and are prone to scratches.
Installation: Marble is prone to damage, which makes it essential to be handled by professionals.
Soft: Marble is both a soft and a hard stone and needs to be sealed to avoid any damage.
LIMESTONE TILES
Limestone is composed of aragonite and calcite and is a type of carbonate sedimentary rock. It is one of the excellent materials used for the decoration of walls.
Uses of Limestone Tiles
Kitchen Backsplash
Bathroom Walls
Living Area
Office Space
Bedroom
Outdoor Area
Advantages of Limestone Tiles
Cost: Limestone is not an expensive material, and its installation also doesn't cost more.
Aesthetics: Limestones are an ideal choice to provide your walls with a rustic appearance and aesthetic feel.
Safe: Limestone is a fire- and heat-resistant material, which makes it safe to use in indoor areas.
Flexible: Because limestone is a flexible stone and easy to cut, you can customize it in any way based on your personal needs.
Disadvantages of limestone tiles
Weight: Limestone is a heavy stone, and thus it requires a professional to handle the installation process.
Maintenance: Limestone requires daily maintenance.
Soft: Limestone requires sealing as it is a soft stone and can be damaged easily.
Conclusion
Using tiles on walls is a great way to enhance and decorate your walls. Look for your project requirements and choose the best option that better suits your needs. And if you are looking for the best stone supplier for your project, then MPG Stone is a must for you.
We are one of the leading stone tile manufacturers and suppliers in the world. We offer a wide range of stone products that vary in sizes, colors, and textures. You can explore our product range.
Tell us which type and color of tile you are going to use for your space.
Comment down below.